Brokaw FFA Members Compete in District Leadership Events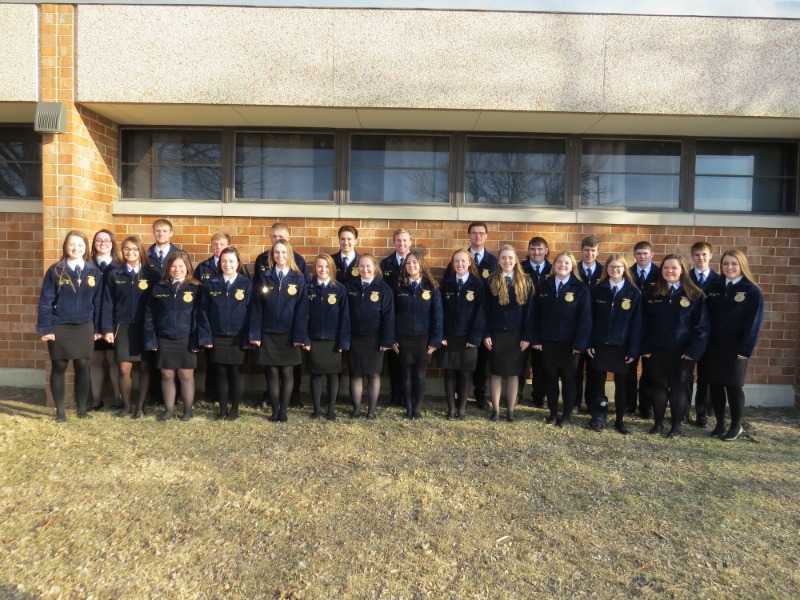 Brokaw FFA Members Compete in District Leadership Events
Thirty-four Brokaw FFA members of Clarinda recently participated in Career Development Events at the Southwest District FFA Convention held at Harlan High School on Saturday, March 7. These members moved on from sub-district contests in February as a result of being in the top three in their respective contest areas. Chapter members competed in eight different speaking events, two quiz events, three proficiency areas, and one officer book event. The following members competed in the following events at the district level with their placings in parentheses: Colby Carlson, Jason Wright, Hailee Knight, Jadyn Sunderman, Aubrey Herzberg, and alternates Colbie Wilmes, Marshal Miller, and Alana Stickler in the Parliamentary Procedure Contest (Gold, 1st- Advance to State); Ethan Herzberg, Bradlie Wilmes, and Dagen Price in the Chapter Program of Activities contest (Gold, 2nd- Advance to State); Lanie Garrett in the Radio Broadcasting contest (Gold, Alternate to State); Phoebe Garrett, Allyson Johnson, DaNae Larson, Adam Johnson, Brevin Coston, Brooklyn Harris, and Skylar Ned in the Conduct of Meetings contest (Gold, 2nd- Advance to State); Shayla Harris in the Ag Sales contest (Gold, 2nd- Advance to State); Kari VanNostrand in the Public Speaking contest (Gold, 2nd- Advance to State); Alex Baker in the Extemporaneous Speaking Event (Gold); and Kristen Smith in the Job Interview contest (Gold, Alternate to State). Freshmen Greenhand members participated in the Greenhand Quiz contest with Phoebe Garrett, Allyson Johnson, Adam Johnson, and Brooklyn Harris receiving a Gold; DaNae Larson, Drake Riddle, Nathan King, Brevin Coston, Levi Wise, Alea VanVactor, and Harley Beery receiving a Silver; and Forrest Eberly and Rhyn Walters receiving a Bronze. Members competing in the Farm Business Management Quiz event were Bradlie Wilmes, Dagen Price, and Blaine Coston with a Gold; Kristen Smith, Madelyn Pulliam, and Carter Larson with a Silver; and Lane Mellencamp receiving a Bronze.
Kristen Smith and Dagen Price submitted the Reporter's Scrapbook for review at the district level. The chapter scrapbook received a Gold rating. Connor Brown and Lane Mellencamp served as delegates during the business session and voted to elect the 2020-2021 Southwest District officer team.
Proficiency applications were judged at the district level as well. The FFA Proficiency Award program recognizes members with outstanding SAE projects in numerous agricultural areas. Brokaw FFA Chapter members Ethan Herzberg, Lane Mellencamp, and Bradlie Wilmes completed proficiency applications with all three applications receiving a Gold rating and placing in the top two to move on to the state level for competition. Ethan's application is in the Landscape Management area, Bradlie's is in the Beef Production area, and Lane's is in the Ag Mechanics Repair & Maintenance area.
All five leadership speaking contest areas that advanced above from the district level will compete against members from chapters out of the other five FFA districts in the state of Iowa at the State FFA Leadership Conference held in Ames on April 20-21.