PLEASE WELCOME OUR NEWEST MEMBERS OF THE 21-22 CARDINAL FAMILY!
LESLEY EHLERS - PK-6 PRINCIPAL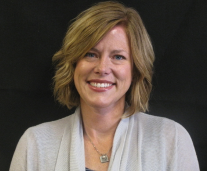 PROFESSIONAL INFORMATION:
Lesley brings 25 years of educational experiences and possesses strengths in General Education and SDI literacy efforts, MTSS and data-based decision making, leading professional learning, and systems-level supports. Her credentials include a Masters Degree in Early Childhood, a Masters Degree in Administration Certification PK-12 and Special Education Supervisor. Lesley is looking forward to working alongside the Clarinda staff as the PK-6 Elementary Principal.
PERSONAL INFORMATION:
I'm excited to introduce myself to the Clarinda Cardinal family. My name is Lesley Ehlers, and I'm passionate about helping all children reach their full potential. I'm a life-long learner currently in my 25th year of education. I've spent the last seven years working for Green Hills Area Education Agency as a General Education and Specially Designed Instruction Literacy Consultant.
My husband and I are the parents of two daughters who will be graduating from college and high school this spring. When not attending their activities, you can find me enjoying the outdoors, reading a good book, or listening to some great music.
I am incredibly excited to work beside you next year as your PreK-6 Elementary Principal. Together, we will continue to make Garfield Elementary the best place for students and staff!
LUKE COX – 7-12 PRINCIPAL
PROFESSIONAL INFORMATION:
Luke has been in education for 13 years as a teacher, coach and High School Principal. As a Social Science teacher, he was named the 2008 MACTE Beginning Teacher of the Year in Missouri. As a school administrator, he is focused on building and maintaining positive educator-student relationships, Professional Learning Communities (PLC), data-based decision making, Trauma-Informed Care, Social-Emotional Learning, Career and Technical Education (CTE) programs, and increasing student participation in activities through clubs and athletics. He has been involved in community organizations such as Rotary Club and Lions Club. His credentials include: Education Specialists (Ed.S) – Superintendent from Arkansas State University (Summer 2021), Masters in Education – Educational Leadership (K-12) from Northwest Missouri State University, and a Bachelors in Education – Social Science from Northwest Missouri State University.
PERSONAL INFORMATION:
Luke is the husband to his wife Rudy of 15 years and a father to three children: Brady (13), Maddie (12), and Eli (10). His wife, Rudy, is a Special Education teacher in Missouri. Their family hobbies include fishing, participating in sports, and supporting the Chiefs and Royals.