Book Club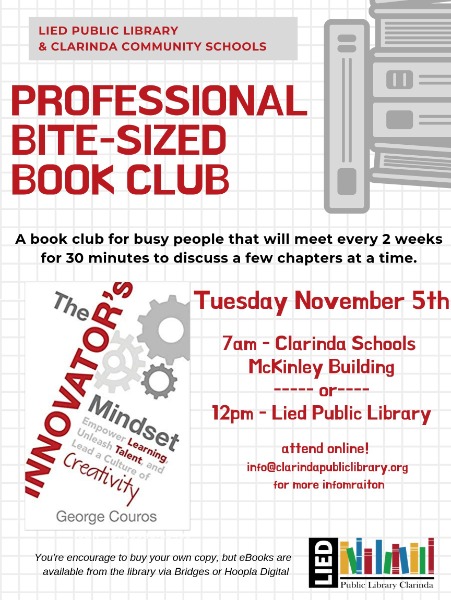 The Lied Public Library and Clarinda Community Schools are excited to offer a professional book club to our community!
The Professional Bite-Sized Book Club is a book club for busy people that will meet every 2 weeks for 30 minutes to discuss a few chapters at a time.
We'll read a few chapters every two weeks then meet for 30 minutes to discuss until we've read and discussed the complete book. You'll have your choice of discussion times that works best for you, as a group will meet in the morning and again over lunch. There's even an option to attend online from your office or home. Each book will focus on various leadership skills and community development that will spark inspiration, discussion and discovery.
See the attached flyer for more information and the title of the book!
Participants are encouraged to purchase their own copy of the book, however the library does has multiple FREE eBook copies available via Bridges or Hoopla Digital.
For more information contact Andrew 712-542-2416 or andrew@clarindapubliclibrary.org