2018-2023 Strategic Plan
Clarinda Community School District
2018-2023 Strategic Plan
Mission
To educate all students to succeed by ensuring quality leadership,
curriculum, and instruction.
Vision
Clarinda Community School District is a leader in education by fostering
high standards and expectations through rigorous academics, meaningful learning opportunities, and engaging student activities.
Beliefs
All people can learn

Learning is lifelong

All people have inherent worth

Individual differences are encouraged and embraced

Education is essential to personal growth and community development

Education is a responsibility shared by the individual,
parents, families, school and community

Environment affects learning

We can shape the future
Strategic Plan Goals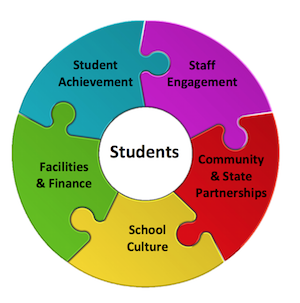 Goal A: Student Achievement
Provide engaging instruction and rigorous curriculum to inspire learning that develops well rounded and socially responsible citizens.

Support career, vocational, and post-secondary exploration that supports each students unique career interest.

Engage parents and community relationships that support education and student success.

Collaborate with community partners to provide exceptional early childhood programs.
Goal B: Facilities & Finance
Provide sound fiscal management aligned to enrollment, state and federal funding, and community expectations.

Develop a long term facilities plan that creatively addresses changing educational and activity needs, future learning strategies, and is adaptive to the fiscal and educational future of the district.
Goal C: School Culture
Support a climate centered on high expectations, while respecting diversity through meaningful opportunities and activities for all students.

Create district wide expectations focused on building positive leadership skills, good character, self-confidence, accountability, and responsible citizenship.

Engage students through diverse and high performing activities.
Goal D: Staff Engagement
Align professional development that fosters progressive thinking, takes risks, exhibits autonomy, and supports leaders of learning who challenge students to achieve their greatest potential.

Facilitate avenues for recruiting and retention of quality talent to the district.
Goal E: Community & State Partnerships
Enhance our local workforce by educating students on local business opportunities, vocational needs, and networking with local leaders and industry.

Utilize strong community partnerships to advance student achievement, enhance school culture, and achieve district goals.

Create a community advocacy group that communicates the political and legislative needs directly impacting the Clarinda School District and community.

Partner with community stakeholders to continue to expand quality of life offerings crucial to the recruitment and retention of employees and their families.
GOAL A: Student Achievement
Strategy 1: Provide engaging instruction and rigorous curriculum to inspire learning that develops well rounded and socially responsible citizens.

ACTION STEPS

PERSON RESPONSIBLE

COMPLETION DATE

Implement PBIS Initiative

Mr. Henely & Ms. Opperman

Annually (June)

Explore Open End Resource

Curriculum Teams

Annually (March)

TLC -Strengths of teachers

Teacher Leadership Team & Administration

Annually (March)

Professional Development Plans (Individualized). Aligned to student achievement. Formalized assessment tools

Teachers and Administrators

Annually (August)

Focus on individual student growth

Administration

Monthly
Strategy 2: Support career, vocational, and post-secondary exploration that supports each students unique career interest.

ACTION STEPS

PERSON RESPONSIBLE

COMPLETION DATE

Create a process for individual student plans.
Align with 8th grade plan

High School Administration &
High School Counselor

Annually (May)

Create methods for feedback to be used for
improvements in preparing students
for post-secondary (surveys to graduating
seniors, graduates @ 6 mo., and 2 yr. post-graduation)

High School Counselor

Annually (May)
Strategy 3: Engage parents and community relationships that support education and student success.

ACTION STEPS

PERSON RESPONSIBLE

COMPLETION DATE

Parent Partnership Meetings

Principals and Staff

Quarterly

Address mental health issues impacting students

At Risk Coordinator

Quarterly

Invite Psychologist to attend staffing meetings

At Risk Coordinator

Quarterly

Strategy 4: Collaborate with community partners to provide exceptional early childhood programs.

ACTION STEPS

PERSON RESPONSIBLE

COMPLETION DATE

Continue conversations between CCSD and preschools

Ms. Opperman & K/ PK Staff

Annually (June)

Explore including community preschools as part of CCSD

Ms. Opperman

Annually (June)
GOAL B: Facilities and Finance
Strategy 1: Provide sound fiscal management aligned to enrollment, state and federal funding, and community expectations.

ACTION STEPS

PERSON RESPONSIBLE

COMPLETION DATE

School Finance Workshops and Training

Superintendent & School Business Official & School Board

Annual

Legislative & Legal Advocacy

Superintendent & School Business Official & School Board

Quarterly

Budget Review and Reporting

Superintendent & School Business Official & School Board

Monthly
Strategy 2: Develop a long term facilities plan that creatively addresses changing educational, and activity needs, future learning strategies and is adaptive to the fiscal and educational future of the district.

ACTION STEPS

PERSON RESPONSIBLE

COMPLETION DATE

Develop a long term facilities plan that creatively addresses changing educational needs, future learning strategies and is adaptive to the fiscal and educational future of the district

Superintendent & Buildings & Grounds Supervisor

May 2018

Educate and inform staff and community of facility plans and impact on our school and community

Superintendent, School Business Official, & Facilities Advisory Committee

Annually (April)

Implement District Wide Safety & Security Plans & Training Programs

Administration

August 2018
GOAL C: School Culture
Strategy 1: Support a climate centered on high expectations, while respecting diversity through meaningful opportunities and activities for all students.

ACTION STEPS

PERSON RESPONSIBLE

COMPLETION DATE

Create PBIS Initiative K-8

Director of Student Services

August 2018

Create a culture where faculty set student expectations based on trust, autonomy, and peer accountability

The Board & Administration

Monthly

Align PD for staff outlining high expectations

Teacher Leadership Team & Administration

Annually (May)
Strategy 2: Create district wide expectations focused on building positive leadership skills, good character, self-confidence, accountability, and responsible citizenship.

ACTION STEPS

PERSON RESPONSIBLE

COMPLETION DATE

Create a model of leadership with clear behavioral expectations at the high school

Administration & Staff

Annually (July)

Embed leadership expectations into learning activities

Administration & Teacher Leadership Team

Monthly

Create a mentorship program

Counselors

August 2018
Strategy 3: Engage students through diverse and high performing activities.

ACTION STEPS

PERSON RESPONSIBLE

COMPLETION DATE

Increase percentage of students in activities-review current participation to meet goal

Activities Director

Annually May

Create strengths and opportunities for students by partnering with parents, community and supportive organizations

Administration

Monthly
GOAL D: Staff Engagement
Strategy 1: Align professional development that fosters progressive thinking, takes risk, exhibits autonomy and supports leaders of learning who challenge students to achieve their greatest potential.

ACTION STEPS

PERSON RESPONSIBLE

COMPLETION DATE

Develop Professional Development Plan Annually

Mental Health

Technology

Instruction

Curriculum

Teacher Leadership Team

Annually (May 15)

Develop Professional Plan For Non-Certified Staff

Building Principal & Superintendent

Annually (May 15)

Develop District Wide PBIS Training And Plan

Director of Student Services

May 15, 2018

Strategy 2: Facilitate avenues for recruiting & retaining quality talent to the district.

ACTION STEPS

PERSON RESPONSIBLE

COMPLETION DATE

Establish a relationship with Northwest School of Education to facilitate processes for Iowa Licensure

Superintendent

May 15, 2018

Investigate Recruitment Options

Neighboring states

Online

District

Superintendent

May 15, 2018

Communicate the need for reciprocity with contiguous state for teacher licensing

Superintendent

September 15, 2018
GOAL E: Community and State Partnerships
Strategy 1: Enhance our local workforce by educating students on local business opportunities, vocational needs, and networking with local leaders and industry.

ACTION STEPS

PERSON RESPONSIBLE

COMPLETION DATE

Expand job shadowing options partnering with the chamber

Counseling Department

December 2018

Create student marketing & business opportunities

Guidance Counselor & Business Ed. Department

August 2019
Strategy 2: Utilize strong community partnerships to advance student achievement, enhance school culture, and achieve district goals.

ACTION STEPS

PERSON RESPONSIBLE

COMPLETION DATE

Each administrator engages with a community board (Chamber, Foundation, Cardinal Fund, City Council, Economic Development Association, etc.)

Administration

Annually

Incorporate a youth representative on City Council

H.S Principal, Counselor and Alternative HS teacher

August 2018
Strategy 3: Create a community advocacy group that communicates the political and legislative needs directly impacting the Clarinda school District and community.

ACTION STEPS

PERSON RESPONSIBLE

COMPLETION DATE

Educate community on legislative matters impacting education via social media, radio, newspaper

Superintendent

December 2018

Involve community in communication with legislators

Superintendent

December 2018

Parent and community membership in Parent for Great Public Schools advocating for public education

Superintendent

October 2018

Strategy 4: Partner with community stakeholders to continue to expand quality of life offerings crucial to the recruitment and retention of employees and their families.

ACTION STEPS

PERSON RESPONSIBLE

COMPLETION DATE

Bridge gap for new faculty members with community by developing "retention" team that assists with the operational and social incorporation of new hires to community

Retention Team (Both CSD employees and community members)/Superintendent

Annually (April)

Introduce and provide new hires information and resources crucial to immersion into the community

Retention Team (Both CSD employees and community members)/Superintendent

Annually (April)