Candymakers
Wendy Mass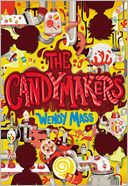 SUmmary
Four gifted twelve-year-olds, including Logan, the candymaker's son, are set to be contestants in the Confectionary Association's national competition to determine the nation's tastiest sweet, but nobody anticipates that a friendship will form between them.
My Reflections
Each character alternates chapters in the book.
Love how the story interweaves. Excellent!
ICC 2012-13
AR 5.0 15pts